Be in line with the latest innovative technology brought to you by the dermapen family! Visit Dermapen World's blog for more interesting news and updates!
Wednesday, March 25, 2015
With media blitz focusing on Hollywood celebrities' perfect looks and appearance, the ordinary people are pushing for ways and means to achieve youthful appearance, radiant skin and stress-free looks. More men and women, young and old are into celebrity-inspired skin care rituals and practices, as they seriously wait for the advertised results.
Many skin clinic businesses benefit from such media blitz about youthful skin and appearance. When celebrities endorse certain products or procedures, people search forlocal skin clinic that offers the same procedure or service. And if you are in this business, you should know that there are other easy ways to get more clients or customers for your skin clinic business. Check the list below:
Keep a professional image of your skin clinic. People who heard of your clinic through friends of friends will definitely check how the clinic looks. It should give an impression of impeccable elegance and professionalism. Your clinic will reflect the kind of professional service you will give to your clients.
Have a Professional and Optimized Website. This is the key to your campaign. Since more and more are turning to the internet with their everyday search for information, having an optimized website to land on the top pages of the search engine results page would be the best way for the searchers and potential customers to see your site. Invest in the expertise of an experienced SEO company or team to manage the online marketing activities of your website. The results will surely pay off.
Create a business page for your business in your social media account. This will keep you active and visible to a wider audience and customer base. Engage them in conversations, giving them valuable information about skin care, answering questions, having promotions, etc. By doing this you are actually building your authority in the industry and you are creating wider customer base.
Make a commitment to community events and activities. People easily remember those who do good deeds for the community. Offer free facial or consultation with skin problems. Join medical missions organized by the local community. Give something back to the people. This will mark your value to the community.
Request your existing clients for testimonials. If other people read real client's feedback on your services, they will need no more encouragement or convincing. They will take action and will visit your clinic for initial consultation.
Offer referral scheme. Your word of mouth advertising will supplement the online marketing activities. Clients who are satisfied with your services will not mind posting an endorsement in their own social media circle, increasing the potential customers who might try your services.
Grab all opportunities to distribute your brochures and business cards. Theseoffline marketing campaigns are still found to be effective in bringing positive results for your business. Always be ready to network whenever you are attending any kind of events. Be sure to bring in all your marketing paraphernalia and develop rapport to people you will meet.
Attend industry-related trade shows, conferences and exhibitions. These venues are the best places to distribute your brochures and business cards. Those visiting these events are likely to be potential clients for your clinic.
Display your clinic's accreditation, certification and permits, etc. both offline and online. With the proliferation of scam skin clinic practitioners, people tend to be cautious. Put a link on your website to verify your accreditations. When people can verify these things, they get confident with your integrity and reputation.
Creating good public relations and having a creative team of marketing professionals is your best resort in growing your business. Apart from customer satisfaction, knowing how to trigger your target customer's emotions into acquiring your service or grabbing your skin care products will definitely bring your business into greater heights. Just don't disappoint your clients with false marketing and your business will go a long way. We all know that business marketing is all about exaggeration to trigger emotions but never cling into something you cannot provide to develop good business relationship, authority and most importantly, trust.
---
Wednesday, March 18, 2015
What can you do now to ensure a successful year?As we move into the second quarter of 2015, it's time to get serious about your profits. If you are committed to maximizing your growth this year, you must have ZERO TOLERANCE for mediocre staff, sloppy processes and lazy practices that underwhelm your patients. Aesthetic patients today won't tolerate being treated like second class citizens. They will give their disposable income to the practice that makes them feel special.
Remember there is always someone behind you who is looking at taking your place in the market.
Creating a successful aesthetic practice in times of economic uncertainty is a daunting challenge. Emphasising the patient's experience, effectively using social media and the web, and an ego-devoid introspective analysis of the flaws of your practice are essential for any successful aesthetic practitioner to grow and be prosperous despite any shortfalls in the economy.
The core principles in medicine and business can, at times, be contradictory. However, the essential fundamentals of medicine are consistent with the best strategies in business. For example: doing the right thing, selflessness, and empathy – bode well in business also. However business is a competitive world and the success of any company is mainly measured in financial statements. We all know that cosmetic medicine is not a general medical business; aesthetic practitioners are selling an expensive luxury, not a health necessity. However, it is important to remember that aesthetic medicine is still, first and foremost, medicine, and beyond any other profession or business, practitioners have an enormous responsibility to always do what is in the best interest of their patient rather than themselves. No other profession is granted such responsibility or high standards. Success should be measured in the patients' well-being and not just the bottom line.
Aesthetic practitioners have a responsibility to treat the patient first using the most responsible and most appropriate treatments while keeping in mind the luxuries of retail to keep consumer driven patients happy and to remain profitable. So how can practitioners practice this fine balance in a down economy and still thrive?
Most importantly, the 'product' has to be good. Regardless of the economy, only a business providing a good product will succeed in the long term. If the product is less than promised, the consumer may be fooled for a limited period of time by creative and expensive advertising, but eventually, the individual will catch on to the inferiority and the business will fail. In aesthetic medicine, the practitioner and staff are the product!
That means any service offered by the practice or persons who represent the practitioner must be aligned with the highest standards of quality. Their competency will be perceived as a reflection of the practitioner. Additionally, the practitioner will have to be well versed in the medicinal products offered and continue to perfect his or her technical skills.
If the product (practitioner) is no good, word spreads fast. This is true in any economy, but with the limited opportunities and increased competition, a practice cannot tolerate even a minority of disappointed patients. For an established doctor seeing a decline in business, now is the time to act fast and implement measures to ensure the practice thrives in the current downturn. Those seeing a reduction in business need to re-evaluate their current policies with an ego-devoid introspection and attention to the following formula so they continue to grow and prosper, as your competitors wonder what happened.
The following success formula will address all of the above and, if implemented, will keep your phones ringing, your patients buying and referrals coming to you. The point is to first check your mind-set. Are you buying into media pessimism? If you are, you are not going to be open to opportunities and possibilities so fix that first.
What are your thoughts on making your clinic more profitable? Leave us a comment!
---
Wednesday, March 18, 2015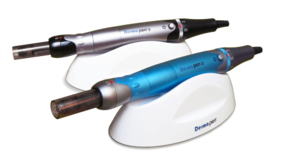 Fractional Rejuvenation at a Fraction of the Cost with the Genuine Dermapen 3 and its AOVN™ Advanced Oscillating Vertical Needling Technology. We offer different packages, designed to meet the needs of every practice. Ask us for details to find the best package to suit your business.
Introducing the Dermapen Cryo, NEW to the United States.Ask us for information about this innovative treatment option.
Learn about what's special about our line of US-made DP Dermaceuticals™. The feedback from practitioners and patients has been amazing.
Act NOW on these Limited-Time Offers,
DermapenWorld's AAD Show Specials

From March 20-24th, we invite you to visit DermapenWorld
at Booth #5155 at Moscone Center in San Francisco
for the 25th Annual Meeting of the
American Academy of Dermatology (AAD)
and take advantage of the lowest pricing we offer all year.
If you can't make it to the show, we understand.
You can call us:
Call (844) 4-DERMAPEN | (844) 433-7627 and reference
Promo Code AADSF2015 to
SAVE Big on your Dermapen 3 or Dermapen Cryo Package.
---