Be in line with the latest innovative technology brought to you by the dermapen family! Visit Dermapen World's blog for more interesting news and updates!
Wednesday, March 18, 2015
What can you do now to ensure a successful year?As we move into the second quarter of 2015, it's time to get serious about your profits. If you are committed to maximizing your growth this year, you must have ZERO TOLERANCE for mediocre staff, sloppy processes and lazy practices that underwhelm your patients. Aesthetic patients today won't tolerate being treated like second class citizens. They will give their disposable income to the practice that makes them feel special.
Remember there is always someone behind you who is looking at taking your place in the market.
Creating a successful aesthetic practice in times of economic uncertainty is a daunting challenge. Emphasising the patient's experience, effectively using social media and the web, and an ego-devoid introspective analysis of the flaws of your practice are essential for any successful aesthetic practitioner to grow and be prosperous despite any shortfalls in the economy.
The core principles in medicine and business can, at times, be contradictory. However, the essential fundamentals of medicine are consistent with the best strategies in business. For example: doing the right thing, selflessness, and empathy – bode well in business also. However business is a competitive world and the success of any company is mainly measured in financial statements. We all know that cosmetic medicine is not a general medical business; aesthetic practitioners are selling an expensive luxury, not a health necessity. However, it is important to remember that aesthetic medicine is still, first and foremost, medicine, and beyond any other profession or business, practitioners have an enormous responsibility to always do what is in the best interest of their patient rather than themselves. No other profession is granted such responsibility or high standards. Success should be measured in the patients' well-being and not just the bottom line.
Aesthetic practitioners have a responsibility to treat the patient first using the most responsible and most appropriate treatments while keeping in mind the luxuries of retail to keep consumer driven patients happy and to remain profitable. So how can practitioners practice this fine balance in a down economy and still thrive?
Most importantly, the 'product' has to be good. Regardless of the economy, only a business providing a good product will succeed in the long term. If the product is less than promised, the consumer may be fooled for a limited period of time by creative and expensive advertising, but eventually, the individual will catch on to the inferiority and the business will fail. In aesthetic medicine, the practitioner and staff are the product!
That means any service offered by the practice or persons who represent the practitioner must be aligned with the highest standards of quality. Their competency will be perceived as a reflection of the practitioner. Additionally, the practitioner will have to be well versed in the medicinal products offered and continue to perfect his or her technical skills.
If the product (practitioner) is no good, word spreads fast. This is true in any economy, but with the limited opportunities and increased competition, a practice cannot tolerate even a minority of disappointed patients. For an established doctor seeing a decline in business, now is the time to act fast and implement measures to ensure the practice thrives in the current downturn. Those seeing a reduction in business need to re-evaluate their current policies with an ego-devoid introspection and attention to the following formula so they continue to grow and prosper, as your competitors wonder what happened.
The following success formula will address all of the above and, if implemented, will keep your phones ringing, your patients buying and referrals coming to you. The point is to first check your mind-set. Are you buying into media pessimism? If you are, you are not going to be open to opportunities and possibilities so fix that first.
What are your thoughts on making your clinic more profitable? Leave us a comment!
---
Wednesday, March 18, 2015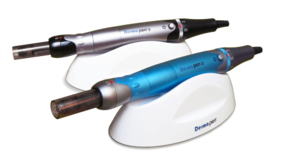 Fractional Rejuvenation at a Fraction of the Cost with the Genuine Dermapen 3 and its AOVN™ Advanced Oscillating Vertical Needling Technology. We offer different packages, designed to meet the needs of every practice. Ask us for details to find the best package to suit your business.
Introducing the Dermapen Cryo, NEW to the United States.Ask us for information about this innovative treatment option.
Learn about what's special about our line of US-made DP Dermaceuticals™. The feedback from practitioners and patients has been amazing.
Act NOW on these Limited-Time Offers,
DermapenWorld's AAD Show Specials

From March 20-24th, we invite you to visit DermapenWorld
at Booth #5155 at Moscone Center in San Francisco
for the 25th Annual Meeting of the
American Academy of Dermatology (AAD)
and take advantage of the lowest pricing we offer all year.
If you can't make it to the show, we understand.
You can call us:
Call (844) 4-DERMAPEN | (844) 433-7627 and reference
Promo Code AADSF2015 to
SAVE Big on your Dermapen 3 or Dermapen Cryo Package.
---
Tuesday, March 10, 2015
Although Microneedling has been around since the 1940's, it has recently experienced resurgence in popularity – let's explore the benefits of microneedling for acne scars.
Acne scarring occurs because depressions or pits in the skin have formed abnormally from the inflamed acne spot.
Micro needling technology uses either a mechanical device that incorporates surgical steel micro-needles in a wheel, which is used to roll over the surface of the skin in a patterned formation or a mechanical pen-like motorized devise which punctures and stamps the skin by needles moving in and out at a very fast rate of 1000 punctures per second.
Microneedling is highly effective repairing abnormal healing as the micro needles penetrate from between 0.25mm -2.5mm below the skins surface. This creates microscopic channels deep into the dermis of the skin. Micro injury targets the area where the dermal inflammation has occurred and breaks-up fibrous tissue to fill-in where there has been a loss at the site of the acne lesion.
In our article How To Remove Back Acne Scars we described eight of the latest treatment methods for treating acne scars: Dermabrasion, Laser Skin Resurfacing, Acne Chemical Peels, Acne Scar Surgery, Collagen Injections, Fat Transfer and Microdermabrasion.
We discovered that most of these treatment methods involved the removal of layers of skin to allow healthier skin cells to surface faster. Several treatments caused coagulation of tissue and the fast-tracking of collagen and elastin production to quickly move through the dermal layers to the epidermis which in turn plumps-out skin where indentations from scars have occurred thereby revealing smoother skin at the surface.
Like wrinkles, most acne scars are visible because they are lower or deeper than surrounding skin. Microneedling will even out the complexion and improve the appearance of scars.
One of the main benefits is that skin tightens and improves long after the treatment itself. Micro needling promotes inner healing of the dermis to tighten and smooth the skin as collagen begins to lay down in a more regular manner through the layers of the skin to the upper layers where smoother more regular.
Many men and women with acne scarring are enjoying the benefits of significant reduction of scar depth even after a single treatment and although results vary from person to person and it is likely that you'll have to undergo several treatments to get the appearance that you are looking for.
The team at SkinHealthShop have a solution and provide two options of Micro needling home hand held devices that are FDA cleared and safe enough for you to conduct your own treatments in the privacy of your own home.
You can choose from: Scientia Derma Roller – a light-weight hand held skin roller with 192 surgical steel micro-needles which part the pores of the top layer of the skin without causing skin damage. Note: Different rollers are required with different needle lengths to be able to treat a wide range of conditions.
Or
Scientia Derma Stamp – a light-weight hand held needling devise with adjustable needle dial for a multi-purpose use. Derma Stamp is the home hand held needling devise equivalent to the Professional only use – Derma Pen.
So now you can repair your acne scarred or surgery scarred skin when you purchase your own home microneedling for acne scars device and restore your skin so that it becomes more elastic, thicker, tighter, smooth and acne scar free.
---